We know that sometimes the products you want are sometimes to expensive to pay in one shop. Which is why Australian Variety Store offers Lay-Buy to all our customers. Lay-Buys is powered by PayPal so you know all your payment details are secure and Australian Variety store does not receive your C/C details, that is between you and PayPal, this also reduces any fraud against you as you will have your own PayPal account that the payments come from. 
With Lay-Buy you have the choice on the deposit you pay upfront starting from 25% - 50%, you also have a choice of how long you want to spread the payments out by from 3 months - 5 months, and the best thing about putiing your Purchases on Lay-Buys is if any of your producys were on Sale at the time that is the price you will pay off even after the Sale ends.
Here is HOW IT WORKS
Lay-Buy makes it easy for you to buy the products and services that you need by paying for them via a down payment and monthly instalments.
AFFORDABLE: Our calculator allows you to select the down payment you can afford to today and the amount of months you need to pay off the product.
CONVENIENCE: Payments are automatically setup between you and the seller with no manual payments by either party.
FLEXIBLE: You can settle a Lay-Buy order earlier at any given time.
CHOICE: The buyer gets to select the down-payment % they wish to pay immediately, and how many months they want the Lay-Buy to run for.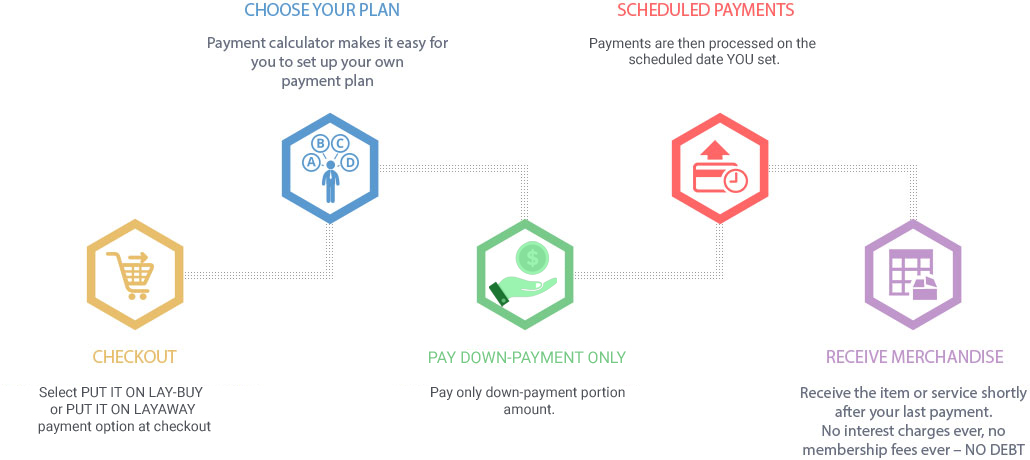 5 SIMPLE STEPS
1. CHECKOUT
Select Put It On Lay-Buy payment option at checkout.
2. CHOOSE YOUR PLAN
Payment calculator makes it easy for you to set up your own payment plan.
3. PAY DOWN-PAYMENT ONLY
Pay only down-payment portion amount.
4. SCHEDULED PAYMENTS
Payments are then processed on the scheduled date YOU set.
5. RECEIVE MERCHANDISE
Receive the item or service shortly after your last payment.
No interest charges ever, no membership fees ever – NO DEBT.